Starting Your Solar
Table Project
SolGreen is trusted for durability, quality and superior performance.
The Evodia Solar Table is a maintenance-free solar powered charging station, canopied seating table and 100% renewable power source equipped with energy storage, GFE & USB device charging, LED lighting, Wi-Fi and patented emergency/weather response systems. The Evodia Solar Table is used to provide access to power, enhance safety and keep us connected.
Facilities teams have an array of requirements for their campuses and outdoor spaces, we've considered every detail to make it easy for customers to decide what is the best option for your campus.
Common Customer Requirements
I want a solar table that will last on my campus over time.
The Evodia Solar Table is the only solar table product built from state of the art (rust resistant) steel and recycled fiberglass. Structurally guaranteed to last for ten (10) years.
I want a solar table that is affordable.
The Evodia Solar Table is more expensive than other poorly engineered competitors due to its high quality materials, hand fabricated design, patented PVSE system and safety technology. SolGreen customers are satisfied and comfortable when spending more for a high quality product from a trusted company, rather than purchasing a cheaper alternative that will not last and is not safe for facilities and users.
I want a solar table that is safe for users.
Evodia Solar Tables are equipped with patented safety technology that keeps users and expensive hardware safe from extreme weather conditions and flooding. Unlike poorly designed models that have no safety mechanisms and house expensive hardware on the ground (flood risk).
I want a solar table that is comfortable and will accomodate all users.
Evodia Solar Tables are ADA Compliant- accommodating four (4) users in comfortable attached seats and two (2) wheelchair users. Detached seating is also available to accomodate eight (8) users.
I want a solar table that is proven to withstand extreme weather.
Evodia Solar Tables in Miami, FL withstood the category three (3) Hurricane Irma in 2017. Providing off-grid power and shelter to users that needed to contact loved ones the next day after the storm.
I want a solar table that provides shade during hot summer days.
The Evodia Solar Table patented canopy is designed to provide optimum shade for users to reduces glare and provide cooling during hot days.
I want a solar table that is easy to install.
Evodia Solar Tables take two (2) hours per unit to install with no deep drilling required, unlike other solar table competitors. On-Site Installation assistance is provided and all parts are warrantied. SolGreen has not had to replace any parts since our first install in 2012.
I want a solar table that is maintenance-free and can be regulated.
Due to the high quality materials used to build Evodia Solar Tables, they are rust and stain resistant with the ability to weather over time without loosing its aesthetic appeal. Evodia Solar Tables are equipped with power regulation so you can control when your solar tables can be used.
I need to purchase my solar table through a government contract.
The Evodia Solar Table is the only solar table available through the nationwide U.S. Communities cooperative purchasing agreement and GSA.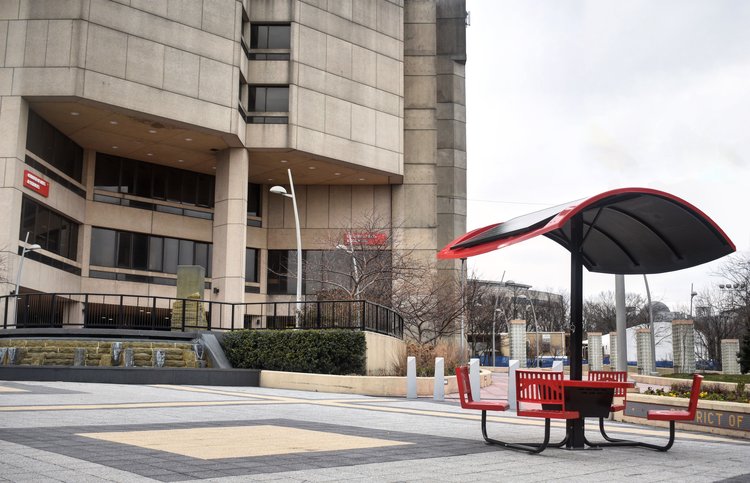 Evodia Solar Table specs
Fiberglass Canopy & Powder Coated Steel Structure (10 Year Guarantee, Rust Resistant)

Comfortable Individual Seating with Four (4) Seats, Detached Seating Available

24 Hours of Power (power regulation available, day and night usage)

Charges 150+ Devices Daily

Four (4) GFE Power Outlets and Four (4) USB Outlets

Patented Ultra-Efficient PVSE System (10,712 kWh per year)

Automatic LED lighting for night usage

U.S. Patented Safety Technology (Intelligent Rain Detection System, Smart Housing Box)

Wi-Fi Repeater

Custom Canopy & Table Logo Wrap

1 Year Service Warranty Included, Maintenance-Free

ADA Compliant, NEC 2014 Electrical Code Wired, BIFMA Standard Certified

UL Listed Components

P.E. Certified, National Weather Service Certified and Environmentally Tested for 120mph wind conditions and snow load (competitors are not environmentally tested)
For additional information please contact us . We'd be honored to work with you and learn more about your solar table project!